Whatever You May Need, We're Here for You
Your smile introduces you before you say a word, and you deserve to move through the world with one that you love to show off. Dr. Johnston and Dr. Boehm want to help transform lives by transforming smiles. Whether you're interested in porcelain crowns, dental implants or whiter teeth, we'd be happy to help you achieve your smile goals.
Give us a call at Enjoy some before and after photos of our patient results in our Smile Gallery below. Feel free to call our Noblesville office at 317-773-1302 if you're interested in becoming part of the "After" photo club.
Cosmetic Dental Procedures
Porcelain Crowns
Dr. Millikan - Before
Dr. Millikan - After
Dr. Millikan wore braces for over two years, but he still wasn't happy with his smile or the shape and look of his teeth. To complete his smile transformation, we did 10 upper crowns. His smile is now proof of the transformative power of cosmetic dentistry
Teeth Whitening
Maritess - Before
Maritess - After
Maritess said that having a beautiful smile was always her dream. She felt her smile was holding her back and didn't enjoy interactions with other people. After whitening her teeth and getting veneers, she now feels confident speaking with others and is proud to flaunt her new smile.
Tammy - Before
Tammy - After
Tammy wanted to change her smile, and we were able to do it in only two appointments, giving her whiter and smoother teeth. Call our office for your free smile consultation to find out if it's right for you.
Melinda - Before
Melinda - After
Melinda didn't like her smile and wanted to make some improvements. Thanks to modern dentistry, sometimes all it takes is a subtle change to make a big difference in the way you look and feel about yourself.
Dental Veneers
Christina - Before
Christina - After
Christina had a pretty smile, but she felt it could look better. We did eight porcelain veneers and gave her a beautiful, new smile. Now Christina says, "When I look at pictures of myself, my smile is my favorite thing about my face."
Lori - Before
Lori - After
Lori was frustrated with her smile and wanted a change. Eight porcelain veneers and a few appointments later, she got her wish. "I went to my sister's wedding, and I was feeling pretty good--sporting my new smile. People were asking how I got older and looked younger. It was great for my ego--it was a wonderful weekend."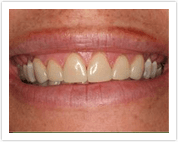 Sharon - Before
Sharon - After
Sharon had her first set of veneers 10 years ago but felt like they were too yellow and dull. We replaced all her veneers and gave her a new beautiful, white smile, allowing her to look and feel her best.
Veronica - Before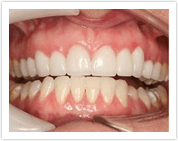 Veronica - After
Veronica also had veneers for a long time and was concerned about their appearance. We removed her old ones and gave her a bright, new smile that she could feel good about.